Cabbage Soup Diet Detox Weight Loss
Detox cabbage soup is an easy way to boost of immunity, nutriment hydration when you are feeling down the weather and helps shed weight

Diet Cabbage Soup Lose Ten Pounds In A Week And Delicious
The Cabbage Soup Diet Plan and Recipe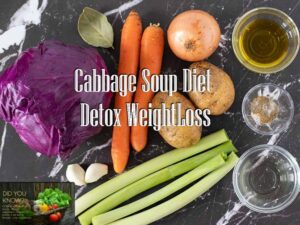 The cabbage soup diet is the perfect solution for those on a time-restricted and weight loss mission. Cabbage is full of soluble fibers, which aid in digestion by creating a gel that slows down food as it passes through your digestive tract. This means you will feel fuller faster! You can expect to lose anywhere from 5 pounds or more following this regimen based on how well you stick to the diet.  Cabbage Soup Diet Detox WeightLoss
The cabbage soup diet is just that: a diet based on consuming primarily cabbage for a certain number of days that promises quick and effective results. The cabbage soup diet is a popular and controversial fad diet, with multiple different versions and haters and lovers alike. For these reasons alone, we decided to put together the ultimate guide for you to decide better if this was right for your weight loss goals or not! Let's get started.
How much weight can you lose on the cabbage soup diet?
With this diet, you can expect to lose around 5-10 pounds in a week when properly done.
However, if you want to avoid the reverse reaction effect that most fast weight loss diets tend to have – regaining weight – you should continue eating a wide variety of fruits and vegetables regularly. Following a balanced diet is the best way to maintain your ideal weight.
"The cabbage soup diet results for weight loss will largely depend on you maintaining a healthy diet once the 7-day period is over."